It is truly amazing how groomed and flawless a tiger's coat of fur is.  Even when the tiger has been rolling in mud or has been enjoying a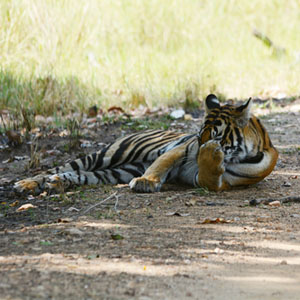 swim in one of the numerous waterbodies, in the jungle, its coat always looks immaculate, clean and spotless without any of its strands of fur being out of place.
We unfortunately, do not enjoy the same luxury of maintenance – free hair.  Every time, that I have been on safari, in the open jeeps, I have had to battle with my windswept hair.  They  collect so much dust from the drives in the jungle, that even running my comb or my fingers through them is impossible.
I therefore decided to get some expert advice on how to ease this problem of "safari hair" without struggling for hours.  My very close friends and Hair Experts, Zing and Dodo of the very popular ZIDO Salon in Mumbai, came up with a few tips, tricks and hairstyles to help us safari lovers, look our best even in the Jungle.
Here is what Zing and Dodo had to say along with their Useful Tips, Tricks and Do-it Yourself Hairstyles:
While at a safari trip we often find that the luxury of grooming our hair is the last thing in your mind. Yet, we all want to look good. So here's a few handy tips on how to have good-looking safari friendly hair without struggling for hours.
#1:  Right Products.  Good hair starts with the right basic products.  So make sure you have your essential shampoo, conditioner and leave-in product. Wash your hair in the evening or at night, and the following morning apply your leave-in product on the length and ends of your hair. This will help save time and also leave you with manageable hair in the morning.  If your have a greasy scalp issue, shampoo your hair twice before conditioning.  Leave-in products are essential to avoid damages caused by excess exposure to the sun.  Some of our personal favourite leave-in products are- Moroccanoil Treatment- for Medium to thick hair. Moroccanoil Light Treatment- for Fine hair.  Small Talk BedHead by TIGI – for those who love to blowdry after a hairwash & thick curly hair that refuse to behave.
#2:  Get a Good Haircut before heading for a safari.  This is especially meant for the men.  A good haircut will save you the time and fuss of trying too hard to style your hair.
#3:  Braids and Ponytails are a must for those who have long hair and it takes only 5-7mins of your morning.  If you want to try the messy braid trend, this is the right time.  Ponytails are simple to acheive and if done the right way can be super fashionable. Here are a few Do-it Yourself techniques to achieve some fun ponytail and braid hairstyles. (See Pictures below)
#4:  Head Gears.  Again this is to prevent damages caused by the sun.  Your protective headgear could be a hat or a scarf.  Scarves can be wrapped in multiple ways so you could try a new look everyday.  To make your life easier here are some scarf wrapping techniques that can be acheived in 5 mins. (See Pictures below)  Tip: While in the jungle opt for more neutral colored scraves like beige, cool or earthy brown, rust orange.
P.S.  Here is a link to ZIDO's Facebook Page and you can get their contact details there.
Here are a few pictures of Do-it Yourself Hairstyles and Hair Accessories useful on safaris
[/vc_column_text][/vc_column][/vc_row]