The monsoons have finally begun and have provided a much needed relief from the searing heat of the months gone by.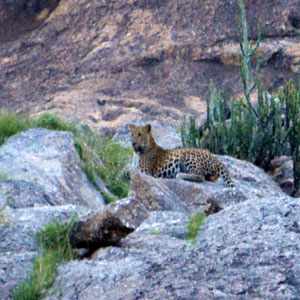 However with onset of the rains brings almost 4 months of sadness for safari enthusiasts. Most of the national parks also shut along with the rains.
Most national parks in India remain closed between 1st July to the 15th of October and some open even later. For most people who love being on safari it is the toughest part of the year being away from the wilderness, the jungles and the peace. Indulging in safaris over the years becomes an addiction. We always wondered in such a big country like India there must be places that you could visit in the monsoons and still have a good chance of seeing wildlife at its best.
After some research we discovered a gem of a place to visit. Let us introduce to Bera a sleepy little village in Rajasthan with a wild secret. We had read about it a few times but never paid too much attention, but this time we decided to check the place out. Let us warn you that Bera is no national park but the thrill and excitement it provides is unbelievable.
We were quite apprehensive at first, but the experience left us spellbound. Bera is located about two to three hour drive from Udaipur and Jodhpur. We stayed at Castle Bera, which is actually an old Rajasthani Haveli converted to a hotel. Since it is not a national park there are no fixed timings for safaris and with the rains we were not sure of seeing the elusive leopard. Bera is filled with hillocks and large boulders and this gorgeous landscape makes it an ideal leopard territory.
It was a massive surprise that on our very first safari we spotted two leopards sitting on a boulder. We could not quite believe it and to make it even more exciting we were asked by the naturalists to get out of the car and walk to a place that his scouts had found suitable for us. We reached the spot and were made to sit quietly at a suitable distance from wild leopards that were resting on a boulder. The feeling was unbelievable and we were absolutely transfixed. The rains had stopped and we were surrounded by lush green fields with the two wild leopards looking at us.
After spending a good two hours photographing and admiring the leopards and with the light fading we walked back to our good old Mahindra jeeps to be driven back to our hotel. When we thought nothing could beat this experience, we were pleasantly surprised to see an Indian Striped Hyena making its way back to its den. We felt the same way we would, when on safari in the national parks around India and we knew we had found our unique monsoon safari destination.
Just a short distance away from Bera, lies Jawai Dam. The dam with is interesting and breath-taking landscape, is great for people interested in birding. It gets many different species of birds through out the year from Sarus cranes, Comb Ducks to Flamingoes. We were fortunate enough to see Flamingoes, Comb Ducks and other species of birds while we were there. Jawai Dam, is also famous for it's crocodiles which can often be seen sunbathing on the banks of the dam.